Welcome to a world where darkness is not shunned, but celebrated. Welcome to the enigmatic embrace of Vamp Manor, where our creations are steeped in mystery, drenched in the unknown, and crafted with devotion to the arcane. Prepare to venture deeper into the realm of the mystical and the macabre as we unveil our collections and invite you to partake in a truly haunting experience.
𝔙𝔞𝔪𝔭 𝔐𝔞𝔫𝔬𝔯™
Welcome to the hauntingly captivating world of Vamp Manor, an alternative brand dedicated to the realm of dark interior design, decor, and art. Step into our ethereal domain, where the macabre, mystical, haunted, and horror find solace and are celebrated in all their eerie glory. Allow us, the proprietors, 𝕷𝖆𝖉𝖞 𝖁𝖆𝖒𝖕™ and 𝕿𝖍𝖊 𝖂𝖔𝖑𝖋, to guide you through the labyrinth of our realm, where darkness intertwines with beauty and the ethereal dances with the mortal.
In this mystical sanctuary, we embrace the shadows and revel in the enchanting allure of all that is deemed unconventional. Each creation that emerges from our twisted imaginations is meticulously crafted to transport you to a realm where secrets whisper, ghosts roam, and darkness reigns supreme. Here, every stroke of our brushes, every carving of our tools, and every stitch of our fabric serves as an invitation to explore the depths of your own desires and embrace the unconventional beauty that lies within.
Within the halls of Vamp Manor, our artisans weave intricate tapestries of dark enchantment. From our Handmade Wooden Gothic Crosses that bear the weight of forgotten histories to our mesmerizing Ouija-inspired Spirit Serving Boards that channel the energy of ancient mysticism, every piece tells a tale that transcends time and resonates with those who are drawn to the mystical and the macabre.
As you wander through our catacombs of creativity, be prepared to immerse yourself in a world where the lines between dreams and nightmares blur, where the whispers of spirits and the creaking of old floorboards become the soundtrack of your journey. With our unique vision, we aim to transform your living space into a sanctuary that echoes the eerie beauty of Vamp Manor itself.
Shop
At Vamp Manor, we take pride in creating each piece with meticulous care and attention to detail. As our products are made-to-order, please note that the production time for all items in our collection is approximately two weeks. We understand the importance of timely delivery and strive to ensure your satisfaction. Should you have any further questions or require additional information, please don't hesitate to contact our customer service team. Thank you for your understanding and patience as we craft a unique piece just for you.
SHOP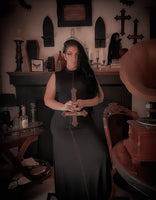 𝕴𝖓𝖙𝖊𝖗𝖎𝖔𝖗 𝕯𝖊𝖘𝖎𝖌𝖓 𝖜𝖎𝖙𝖍 𝕷𝖆𝖉𝖞 𝖁𝖆𝖒𝖕
Join Lady Vamp in a new series all about interior design. Including tips and ideas on Creating vignettes, how to create a story with decor. Lady Vamp is passionate about creating unique alternative interiors without spending a lot of money! Get diy ideas and see how the Vamps repurpose everyday and secondhand objects to create a dark and macabre interior.
𝕴𝖓𝖙𝖊𝖗𝖎𝖔𝖗 𝕯𝖊𝖘𝖎𝖌𝖓 𝖜𝖎𝖙𝖍 𝕷𝖆𝖉𝖞 𝖁𝖆𝖒𝖕